Are you considering an Appenzeller puppy?
Puppy Questionnaire
Our Havana Brown male, Hektor is available as a stud dog.
The Swiss Appenzell Mountain Dog (also know as Appenzeller Sennenhund or Appenzell Cattle Dog) is a medium-sized short-haired herding dog and part of the Swiss Mountain Dog family that also includes the Greater Swiss Mountain Dog, Bernese Mountain Dog and Entlebeucher.
Like the other Swiss breeds, the Appenzeller is tri-coloured with a black body, rust legs, white feet, white blaze and rust marking over the eyes and a white pattern, commonly known as the "Swiss cross" across the chest. The white-tipped tail is carried rolled up on his back. The Appenzeller can also be "havanna brown" which is very rare but was approved in 1983 as an official colour for the breed. Of the four Swiss Mountain dogs, the Appenzeller is the least well known, especially in North America. Originating in the Appenzell region of Switzerland, this breed was, and still is used for herding and watching cattle, pulling carts and as rescue dog and watch dog on farms. Today the Appenzeller has kept his working instinct. He is a medium-size dog, with legendary speed and endurance.
The Appenzeller is NOT a dog breed for everyone; but for many, very special. If you are interested in an Appenzeller Mountain Dog, consider first whether this breed suits your living situation. We emphasize that this breed needs a lot of activities, exercise and space. The Appenzeller is a muscular, athletic and powerful dog with tremendous endurance and agility and they need a job.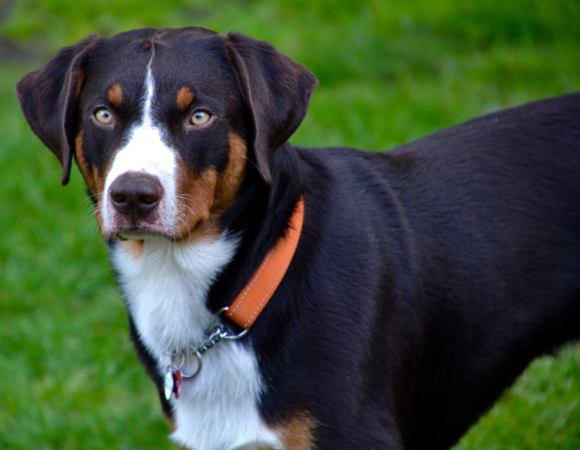 Conformation and Performance Events

If you choose to participate in Conformation and Performance Events with your Appenzeller in North America, options are more limited than with other more popular breeds, particularly in terms of Conformation. In Canada, the Appenzeller, unlike his Swiss cousins, the Greater Swiss, Bernese Mountain dog and the Entlebucher, the Appenzeller is not yet recognized by the Canadian Kennel Club (CKC), therefore Appenzellers cannot compete in Conformation events. You can, however register your dog as a Companion Dog and compete in Performance Events, such as Rally Obedience, Obedience and Agility. The Appenzell Mountain Dog Club of America (AMDCA) is currently taking steps in the direction of getting the Appenzeller recognized.

The American Kennel Club (AKC) recognizes the Appenzeller as Foundation Stock Service and registering your Appenzeller with AKC only allows you to compete with your dog in Companion events.

Your options to show your Appenzeller in Conformation AND Performance events lie with the United Kennel Club, (UKC) based in the US. Registration with UKC is inexpensive, and Appenzellers are fully recognized.

Conformation events are less formal than other clubs, in that dogs are handled by their owners. There are many Performance events with UKC, such as Rally Obedience, Obedience, Agility, Dock Jumping, Nose Work, and Lure Coursing. You can gain special titles for your dog if you attend events that have both Conformation and Performance events the same weekend.

The International All Breed Canine Association (IABCA)also recognizes the Appenzeller and offers "European style" dog shows in the US and Canada. They will also be offering more Rally Obedience trials in the future.

For dog agility, at which Appenzellers excel, both NADAC and the Agility Association of Canada allow dogs of any breed, mixed or purebred to compete in events. There are many dogs clubs in Canada and US that offer dog agility, and no shortage of events. Regardless of what dog sports you choose to do with your Appenzeller, keeping him busy and providing him with a "job" to do will keep him (and you) fit and happy!